Pioneering App Driven Products
ProNav is paving the way in cutting edge, highly technological fishing products in order to maximize your time, success, and enjoyment on the water. The ProNav™ Angler is the world's first Wireless Bluetooth GPS Autopilot for fishing boats to be driven by an app on a smartphone or tablet. Designed to be the easiest to use autopilot on the market, the Angler also happens to be the easiest to install. What does that mean for you? More time fishing, less time keeping your boat on course!
ProNav is a marine products company committed to providing fishermen with the latest technologies and personal customer service to enhance your boating and fishing experience. What does that mean?
No Outdated Electronics – We firmly believe that our customer's hard-earned investment shouldn't go to waste the moment a new update or product feature is released. Therefore, all of our valued customers receive all updates. Period. When boat control algorithms improve, you get the latest version. New feature gets unveiled? No problem, everyone gets it.
Robust Technology- We have designed our products to be robust and durable. Each unit is filled with epoxy and designed to withstand the test of elements. This means our products are saltwater ready, too!
We Care – Our customer service team sets us apart. If you have an issue, our team will dive in and help you correct it and get you back on the water with a fishing rod in hand. We realize things need to happen quick when your tournament or weekend trip is days away. Everyone on the ProNav team is a lifetime outdoorsman ready to help you take your fishing to the next level.
We Listen – We take feedback seriously. After all, you are out there pushing your boat to the limit and we want you to share your experiences with us. We listen carefully and if an update or feature request comes in that makes sense, we waste no time in making it available to you.
Satisfaction Guaranteed- Buy a ProNav Angler and use it for a season. If you're not satisfied with your purchase, we'll buy it back. We're so confident that using a ProNav System will improve your fishing experience, that we happily offer this guarantee!
Who We Are
ProNav products are designed by fishermen for fishermen and we believe your electronics play an important role in your success and enjoyment on the water. We are a marine products company committed to providing you with technologies to enhance your boating and fishing experience.
Meet the ProNav Team
Travis White
Co-Founder, Chief Executive Officer
Travis is an avid outdoorsman and shares his passion with others as a professional fishing guide on Lake Superior and the St. Marys River. He is a U.S. Coast Guard licensed captain, allowing him to captain a research vessel for Michigan Technological University in addition to his own charter boats. Travis holds a B.S. in Mechanical Engineering and has worked as an engineer for the past 5 years. The ProNav Angler started as a project to fill a personal need for an easy to use autopilot system that would allow for greater productivity and more success on the water with clients. This project has since grown into a much larger vision, which is to deliver this technology to others and allow them to enjoy the same benefits of a professional level system without the cost and complexity.
Neil Anderson
Co-Founder, Chief Operating Officer
Neil has a background in research and development, design engineering, manufacturing and product testing. He holds a B.S. in Mechanical Engineering from Michigan Technological University and has spent the last 20 years working on a variety of programs including marine, automotive, military, aircraft and heavy truck. Looking for an opportunity to combine his engineering background with one of his passions, he leveraged this experience into the development of the ProNav Angler to create a robust, simple and easy to use autopilot system. Neil is an avid outdoorsman who is passionate about both hunting and fishing and spends his time on the water fishing multi-species including smallmouth bass, steelhead, salmon, lake trout, brook trout, and smallmouth bass.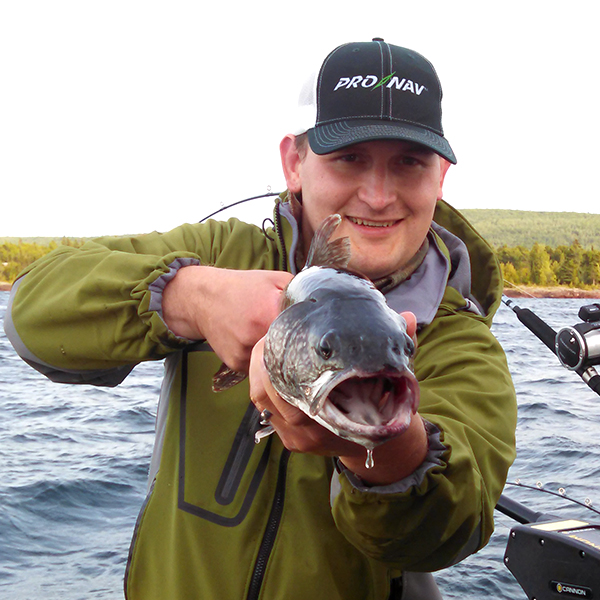 Nels Benda, PE
Co-Founder, Chief Technical Officer
Nels has a background in electronics for the aerospace, military and consumer electronics industries, and has a keen interest in autonomous vehicles. He takes pride in producing a robust product, and strives to understand the science, technology, engineering and mathematics behind his designs. The ProNav Angler system has been especially exciting to develop, as it marries multiple passions, linking his inner nerd with his love for Lake Superior and the outdoors. Nels holds a B.S. in Electrical Engineering from the University of Minnesota, and enjoys spending time with his family, biking, skiing, camping, and of course fishing with the team.
Zach Erkkila
Lead Developer
Having operated his own web development company for the last four years, Zach's background is in website development, application development, mobile-web integration and web-based control systems. He has spent much of his life bass fishing and loves to chase the salmon and steelhead runs across the state of Michigan. Zach saw ProNav Angler as the perfect opportunity to merge his passion for fishing and the outdoors with his love of software development and controls. When he is not programming or fishing, Zach enjoys hunting, camping, golf and hockey.
Scott Niska
Marketing Director
A passionate outdoorsman, Scott has been fishing, hunting, camping, and spending as much time outdoors as he could since he was knee high to a grasshopper. Although bass are his favorite species to fish for, he eagerly awaits the Copper Country's fall salmon runs every year. Scott owns a marketing agency which specializes in marketing and designing for products in the outdoor industry – he thrives on a good creative challenge. When he's not making pixel-perfect marketing materials, Scott enjoys spending time with his family in Michigan's beautiful Upper Peninsula and strives to raise his children the right way – outdoors.